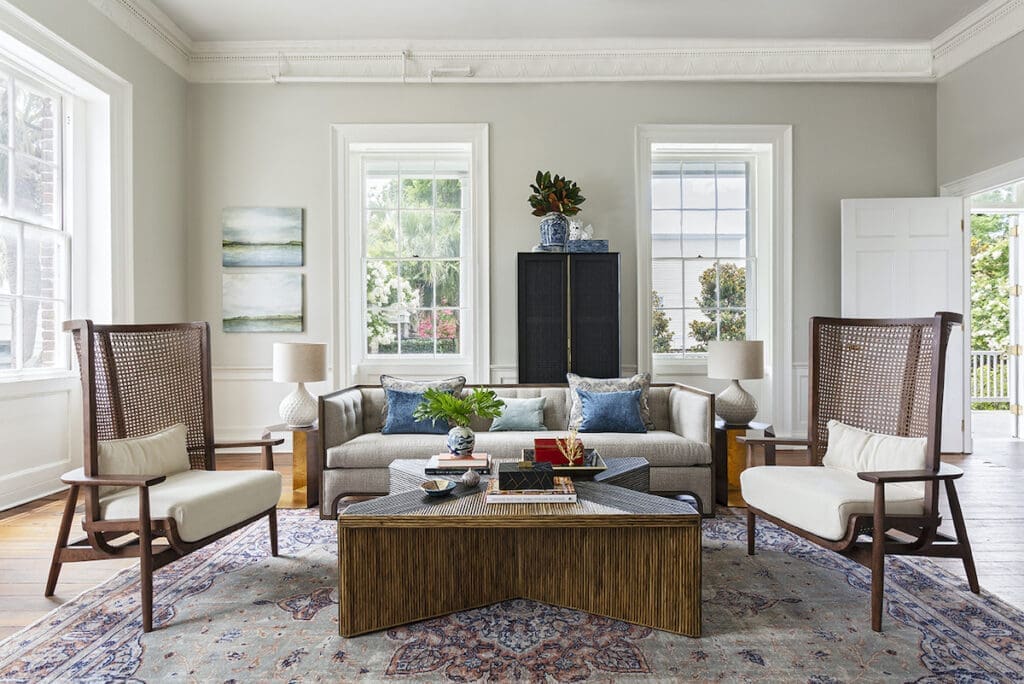 We've had an incredibly difficult year and deserve to start 2021 with a clean slate. Whether you're setting New Year's resolutions or excited to begin a new project, take a moment to consider the spaces in your home that need a refresh. When it comes to interior design, you don't need to do a full renovation to feel a sense of renewal. Reviving a stale space can be as simple as adding minor upgrades, from new hardware to a statement piece of high-end furniture. Here are some of the tweaks at the top of our list for January.
Declutter and Get Organized
Of course, before you make any changes to your decor, it's essential to spend some time getting rid of anything that you haven't used in the last year. Clothes, children's toys, work papers, and leftover Christmas boxes can easily pile up. Now's your chance to clear them out before starting fresh. As Marie Kondo says, "imagine yourself living in a space that contains only things that spark joy." Be sure to donate unused or lightly used clothes and toys and recycle the boxes, rather than throwing them away.

Rearrange Your Art Collection
Art has the power to dramatically change the look and feel of a room, so add some new pieces to your collection to start the year on a high note. Whether your style is more contemporary or traditional, we have a selection of high-end artwork at our Charleston home decor stores. Alternatively, you can move around the pieces that you already own — our Charleston interior designers are happy to help. Experiment with creating a gallery wall of small works, or assemble a personal vignette on an end table. You may find you like the new position of the artwork better than its original placement.

Upgrade Hardware on Your High-End Furniture
Sometimes, it's the smallest details that bring everything together in a room. This is definitely the case with hardware, which can elevate your Charleston home furniture, cabinets, and doors. Switching out the knobs on your kitchen drawers or nightstand can give them an upscale, customized look. Choose shiny brass knobs for a traditional look, cut crystal knobs for vintage-inspired glamour, or ceramic hand-painted knobs for a whimsical effect.

Rearrange Bookshelves
Are your bookshelves filled with dust after not using them for a few years? It's time for a spruce! That may come in the form of alphabetizing or color-coding your books or mixing in some personal objects. We love seeing a bookshelf with all one-color book jackets for a clean and eye-catching approach. Remember that shelves aren't just for books! Our Charleston interior designers recommend you add unique objects, photo frames, artwork, and plants for a more contemporary aesthetic.

Switch the Pillows on Your Charleston Home Furniture
According to the National Sleep Foundation, you should be changing out your bed pillows every one to two years, but what about your sofa pillows? While they can last a long time, switching your living room pillows or pillow covers is a simple way to upgrade your sofa or chairs. Let the new year inspire you to add a fun pop of color, patterns, or cozy textures like velvet.

Add Plants
As a rule of thumb, try to have something living in every main room in the house. Whether you prefer a vase of cut flowers or a potted plant, the addition of the organic material instantly makes a home feel more welcoming. You can even get a plant that works to filter the air of toxins, like a Peace Lily or Dwarf Date Palm. We have a selection of beautiful vases and planters in every shape and size at our three Charleston home decor stores.

Let's put 2020 behind us and head into the new year with an open mind and a revitalized home. Our Charleston interior designers are excited to help you with all your decorating needs in the new year, whether that's selecting new accessories to accentuate a bookshelf or creating a cozy corner with high-end furniture. To get you started, here are some bold Charleston home furniture pieces that will add positive energy to any room in the house.