When creating your wedding registry, it makes sense to start with the basics that you know you're going to need. However, once you have towels and dinnerware out of the way, you can start to think more creatively about fun home items. The best gifts are actually the higher-end things that you wouldn't buy yourself because you don't feel that they are necessary, but that you would really like to have.
If you're stuck on what to add to expand your registry, we've put together a curated list that you can copy and paste. These home accents may not be necessities, but that's what makes them so great.
High-End Bedding
Starting married life calls for new bedding, but not just any old sheets will do. Now is the time to up the thread count and ask for a really nice down comforter, Egyptian cotton or linen sheets, and pillows. After months of wedding planning, you should be able to collapse into a bed that feels like a cloud. Not only will higher-end bed linens, like our Lush Linen Sheet Set be incredibly comfortable, but they'll last you for years.
Table Linens/ Placemats
Now that you are cooking for two, it's time to upgrade your table settings with cloth napkins, placemats, or tablecloths. Depending on your style, you might prefer our Straw Loop Placemats or a simple white cotton tablecloth for everyday use. We recommend registering for at least a few sets of linen napkins as you won't want to wash them every day. Not only are they more attractive and easier to use, but they are better for the environment than throwaway paper napkins.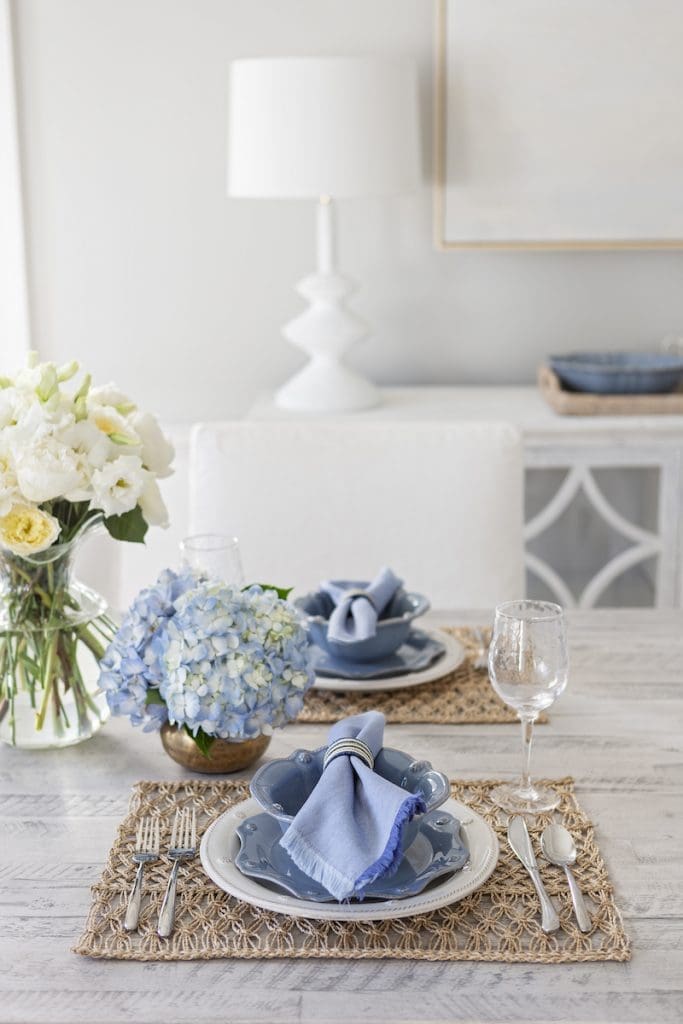 Picture Frames
A home is not a home without family photos and favorite artwork adorning the walls and shelves. Add a few different styles of frames to your registry so you can fill them up as you create your new home together. We also recommend adding an album or two to showcase your most beloved memories from the wedding itself.
Baskets
Instead of putting boring storage bins and organizers on your registry, add a much more aesthetic alternative: baskets. Large baskets can be used to hold blankets, books, bathroom items, and toys while smaller ones can hold plants, jewelry, keys, and fruit. You can never have too many baskets at home in our opinion.
Bar Cart
Don't have a bar cart yet? Now is your chance to ask for one. Not only is a bar cart perfect for rolling out at parties with a specialty cocktail, but it can be used in a variety of other ways. For example, you can set it up as a catch-all for mail and keys in the entryway, or even use it as a makeshift nightstand in a guest room.
Bookends
Bookends may not sound like a glamorous gift, but they can be very special and beautiful depending on the ones you choose. They add style to your bookshelves and of course, keep your books from toppling over.
Vases
You'd be surprised how many vases you need once you're married. We recommend adding a few vases in different sizes and shapes to your registry to cover all your bases. Or, you can add a set that contains many matching vases in different sizes. When not filled with flowers, vases can be used to add a splash of color to the room or simply fill an empty space on a shelf.
---
Create Your Wedding Registry at GDC Home
Remember, all of these unique gifts are just the beginning! They set you up for a beautiful home with all the essentials, but your guests can also bring along fun surprise gifts. Start strong by choosing your basics and then add some pieces you know you'll cherish forever. Now's the time to go beyond the ordinary with memorable gifts from GDC.
---
Shop the Look
---
---
You May Also Like…
---