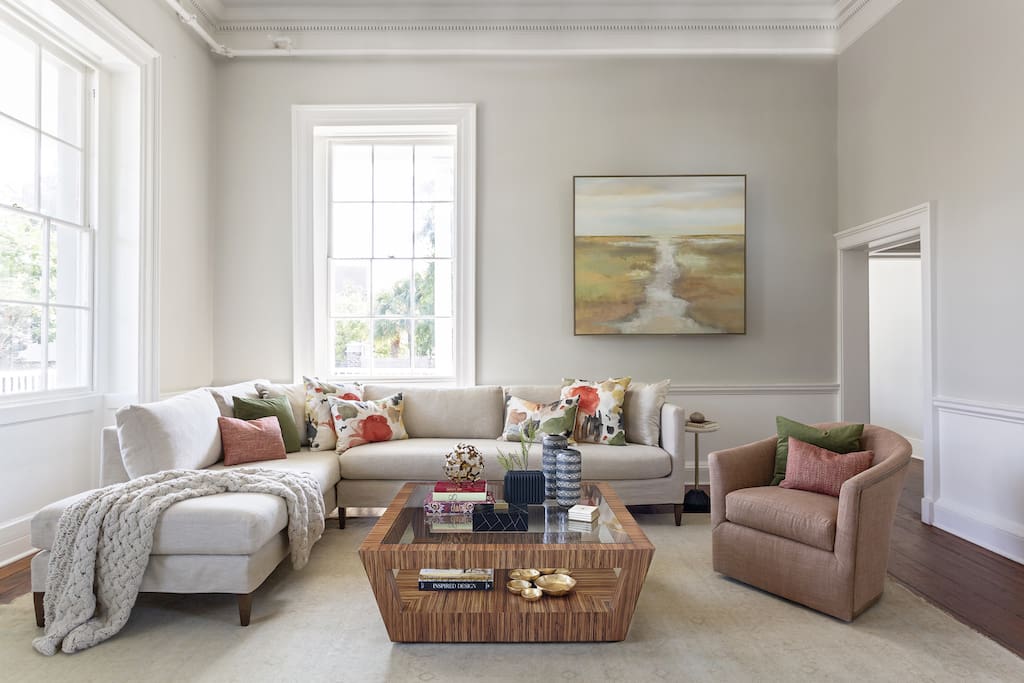 We all love the idea of custom everything, but is it worth it when it comes to upholstery? When you have the options to create bespoke upholstery, the sky's the limit, so our belief is yes! Upholstery goes beyond the fabric, including the cushion package, wood finish, accent pillows, and dimensions in your furniture piece, which can all be customized. You can not only bring cohesion to your room with coordinating fabrics and textures, but you can also choose materials that can meet the needs of your lifestyle.
Your home tells your story, so don't let it sound like everyone else's. Customizing your upholstery is a way of putting your personal touch on each and every piece. Here are some of the main benefits of ordering custom upholstery.
Choice at Your Fingertips
Customization is all about choice. For the same piece of furniture, you might prefer lightweight linen, whereas someone else might choose heavy velvet. The power is in your hands to decide on the type of fabric as well as the color, pattern, and texture. Whatever options you choose, your furniture will be one-of-a-kind and special to your home. If you do make a mistake with your choice, you can always have your furniture recovered later on.
It's Suited to Your Lifestyle
It's essential to choose upholstery that is able to keep up with the demands of your household. Choosing the wrong fabric could result in easy staining, pilling, or holes, which you'll of course want to avoid. For example, families with kids and pets will often choose from custom performance fabrics and slipcovers that are easy to clean and hard-wearing.
Coordinate With Other Furniture Pieces
In addition to being able to customize one piece of furniture, choosing custom upholstery will let you match or coordinate with other furniture pieces you are buying or already own. This will create a much stronger sense of cohesion in your home. When you order custom upholstery, you have the option of choosing patterns and colors that are timeless and true to your vision.
Customize Means to Personalize
Upholstery is more than just a fabric covering, it also includes the cushions, trim, and finishes on furniture. With bespoke upholstery, you have a say in all of this, meaning that you can truly create a beautiful piece that feels like you've designed it. For example, you might choose to have a down cushion package on your sofa for a softer sit and a more casual look. Or maybe you would like to change the finish on the exposed legs to a lighter-colored wood for a more coastal feel. At our Charleston furniture stores, our team of designers will help you with every decision.
It Offers Longevity
More than likely, you will keep custom upholstery for a lot longer because the piece will feel true to your vision and personal style. While choosing custom upholstery feels risky because you won't know exactly what the final outcome will be, you can trust our team of designers to help you bring your vision to life.
---
Custom Upholstery at Our Furniture Stores in Charleston, SC
Whether you're looking to upholster one special piece or an entire room, GDC is the ideal place to find what you need. Our design center is equipped with thousands of swatches, including high-performance fabrics that are perfect for all types of lifestyles. From delicate silks to boldly patterned outdoor fabrics, you'll find everything you need to bring your upholstery project to life. Think outside the swatch with GDC.
---
Shop the Look
---
Sam Bench
This twin sized bench is the perfect versatile piece for any room in your home.
View Product
Marge Sofa
The Marge Sofa is a standard sofa with topstitching, Pecan finish and includes two 20×20 throw pillows.
View Product
Coleman Chair
This unique, coastal chair possesses blue and white fabric, a weathered shipyard wood finish and a brushed nickel tack trim.
View Product
Angel Daybed
This verstaile daybed can be used in various ways — including serving as a daybed, twin sleeper or full-sized bed.
View Product
---
You May Also Like…
---