With Memorial Day right around the corner, we're looking forward to grilling out, relaxing with family, and enjoying the warm weather. The return of summer means we can forego formal meals indoors for get-togethers and instead opt for a more casual approach to dining outdoors. Dining al fresco should be carefree and festive, so don't get too fussy with small details! Instead, embrace a design philosophy that brings comfort, fun, and ease to your outdoor space.
Define Your Space
Whether you are setting up an outdoor space on your patio or in the center of your backyard, it's helpful to define the space. This will loosely provide an area of concentration for guests, which will make your gathering feel more intimate. One way of achieving this if you don't have an enclosed porch is to use a rug, either placed under your table or as a foundation for a grouping of chairs.

We have a large selection of stylish indoor/outdoor rugs at our Charleston furniture stores, like our Diamond Indoor/Outdoor Rug. A rug adds warmth, style, and color, and creates a clear divide that will draw people into the group. Another method of framing your space is to use large sun umbrellas. On a hot day, these will not only be a beautiful canopy for your space, but they'll also keep your guests from overheating.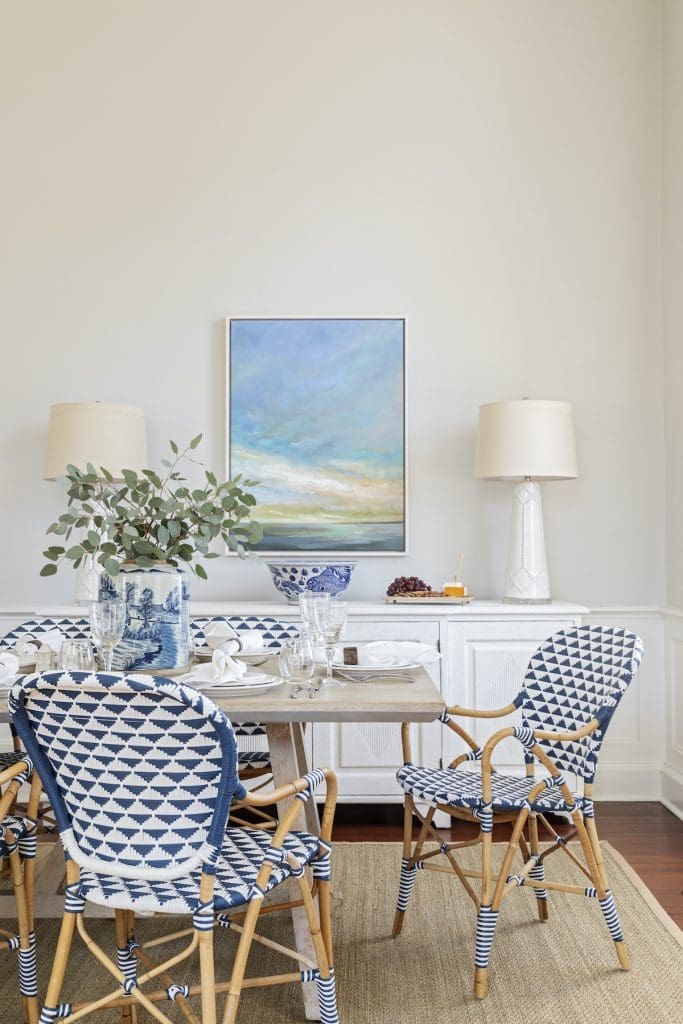 Repurpose Indoor Decor
Contrary to popular belief, the line between indoor and outdoor furniture is not drawn in the sand. As long as it is not raining, you can bring some of your indoor furniture outdoors to create a little magic on your patio. This might include funky chairs, ottomans, and stools, like our Brinnon Garden Stool.
You can also bring accessories like potted plants, lamps, and blankets outside to create a more inviting space. When it gets chilly at night, your guests will be grateful to have a soft throw, like our Montauk Throw, which comes in seven muted tones.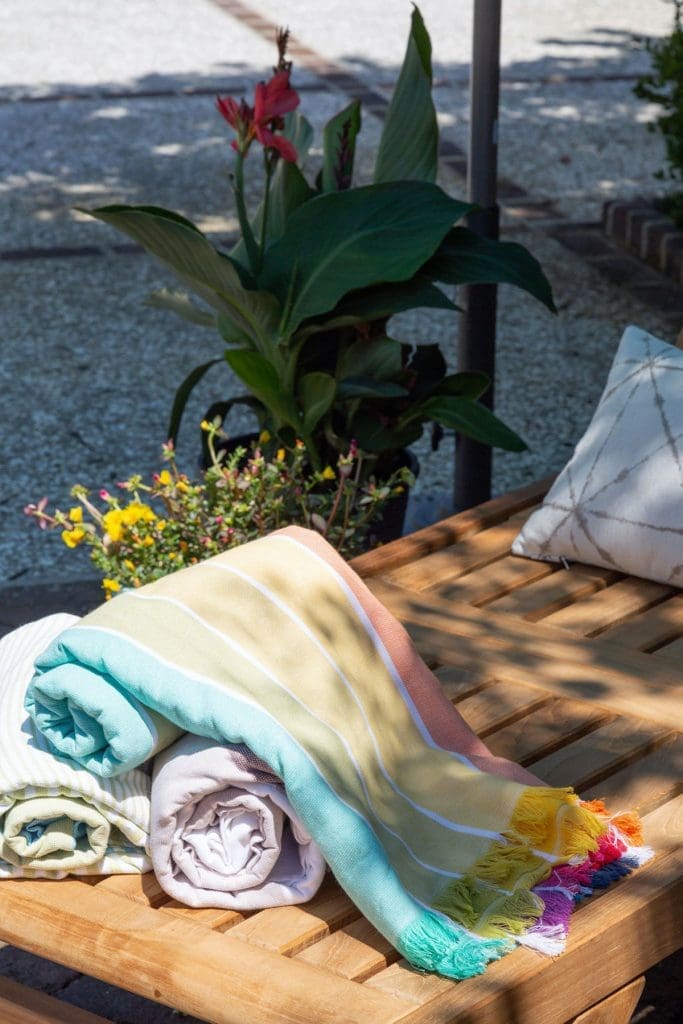 Create Comfy Relaxation Zones
Comfort is key to making your guests linger at a party outside. If they are sitting on hard chairs or baking in the hot sun, they will be more inclined to leave early. Consider setting up outdoor relaxation areas beyond the table for them to recline after enjoying their meal.
Arrange your seating so that it can easily accommodate a conversation, but don't put chairs so close together that your guests feel constricted. For example, setting up a grouping of Adirondack Chairs around a fire pit will be sure to keep your guests chatting for hours. Add lots of pillows, throws, and mood lighting to create a warm ambiance.
Keep the Centerpieces Fresh
When it comes to your centerpieces, let them be easy and natural. You can cut fresh flowers from your garden or a willing neighbor's and put them in vases. Another simple approach that looks elegant is to float some of the flowers in water in a clear bowl, like our Isabella Acrylic 13″ Serving Bowl.
As an alternative, you could fill large decorative bowls with apples, pears, oranges, or other fruit. This is not only a lovely centerpiece, but it also makes it easy for your guests to grab a snack.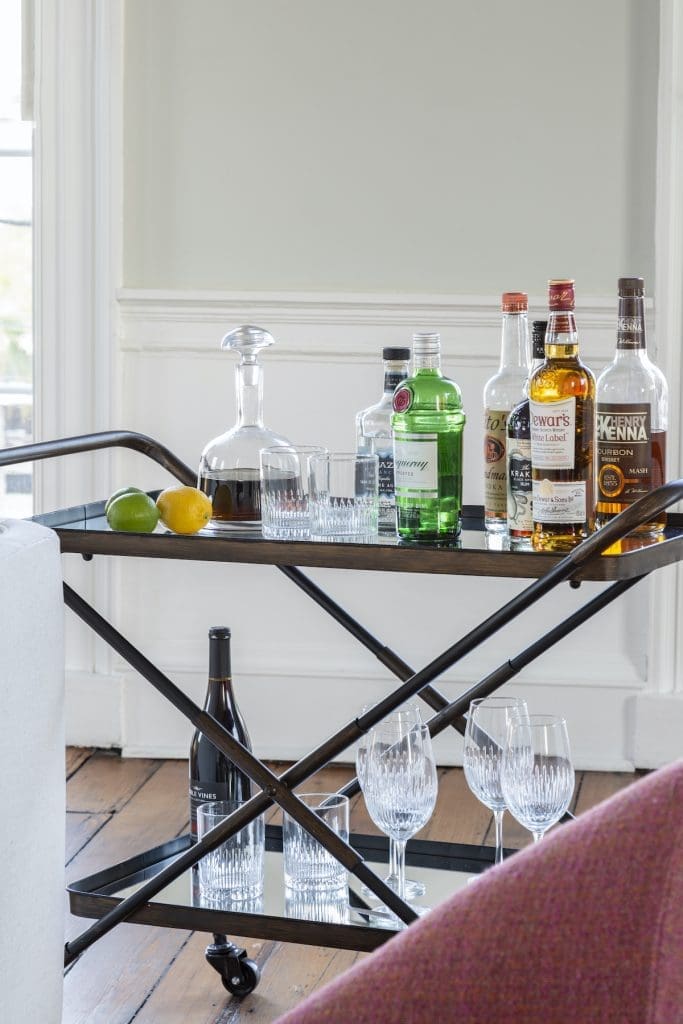 Set Up a Bar Cart
Any kind of self-serve station that you can set up outside will make your life a lot easier when you are hosting. When it comes to drinks, you won't be able to keep an eye on everyone's glass to know when they need a refill. Instead, why not use a bar cart?
Guests can serve themselves and it will not only mean less going inside for drinks, but it also looks pretty. Our Shurlock Bar Cart can be used outside during the party, and then moved inside for regular use.
Switch Up Your Upholstery
If your outdoor furniture is a bit tired, give it a refresh by recovering it with bright new upholstery from our Charleston, SC, furniture stores. Even just changing the fabrics on your pillows can completely change the look of your patio furniture.
Choose fabrics that are durable, yet not scratchy as even outside, guests want to feel comfortable. Natural textures, tassels, and bold prints can all add interest to a bland space.
---
Visit Our Furniture Stores: Charleston, SC
Planning a party and need help adding some excitement to your outdoor space? Our interior design team is more than happy to help you pick out some pieces to create that wow factor you desire. We also have a large selection of fabrics at our Charleston furniture stores and we're happy to help you upholster any pieces that need a facelift.
---
Shop the Look