Florals for summer…groundbreaking! Flowers bring a brightness, pop of colour, and a fresh scent to the home, which is why we love to decorate with them in every room. Whether you switch up the florals in your home weekly or prefer to save arrangements for special occasions, being creative with your florals can really make an impact. So, hold onto your gardening gloves as we unveil some charmingly unconventional ways to decorate with florals in your home.
Pastel Perfection
Coordinating flowers with your colorful interiors can be tricky. Many people opt for white arrangements for this very reason, but you don't need to shy away from color just because your room already has a lot of it. Instead, lean in by choosing complementary hues. On this dresser, for example, we've placed a few peach-colored buds that harmonize with the pastel painting and lamp. Set on a tray with a few books, they really complete the scene in a meant-to-be kind of way.
Hydrangea Mania
In the South, you'll find hydrangeas everywhere you look – from front yards to window boxes, dining tables to art galleries. There are plenty of reasons why these flowers are so popular including their large size, array of bright colors, and long lifespan. We love using two bunches in a simple, low glass vase to offset the volume of their blooms. In particular, hydrangeas look right at home in rooms filled with other Southern-inspired decor, like rattan furniture and baskets.
Small, Yet Mighty
Instead of one large vase, experiment by using groupings of vases to create an airy, whimsical display. This works very well with single tulips, wildflowers, or sprigs of eucalyptus as seen here. Each stem has a lot of personality to show off – let it shine! Depending on the flower, you can arrange the vases in a cluster or keep space between them on a long table to create a delicate, clean arrangement.
Light as Air
While we adore overflowing bouquets of dense florals as much as the next person, there is also something to be said for a minimalist approach to flower arranging. In a room that already has a lot of decor, like the one pictured here, a wispy arrangement of a few sprigs of greenery can be far more appealing. When creating a more light and airy arrangement, a more chunky, grounded vessel helps to balance out the aesthetic.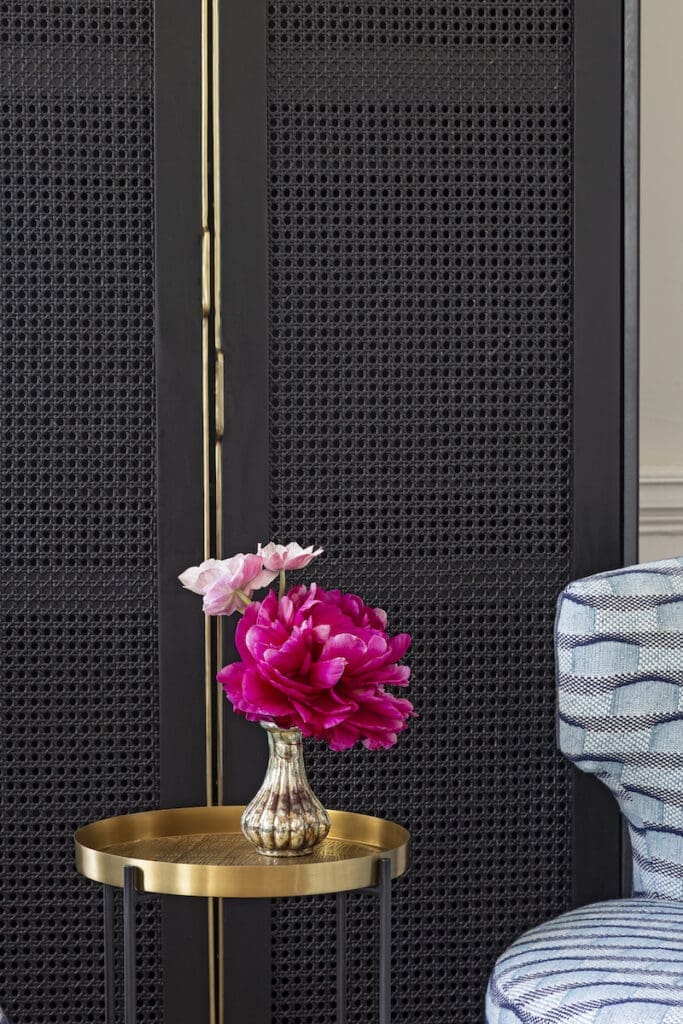 Bring the Drama
Flowers may be sweet, but they can also be dramatic. In a room with a lot of deep, dark hues, you can dial up the drama by adding a pop of color with a bold peony, dahlia, or rose arrangement. These flowers represent passion and their bold petals will catch every eye. You'll love them so much that you'll want them to become a permanent fixture in your room.
---
Find Floral Accessories at GDC Home
On the hunt for floral accessories? Stop by any of our three Charleston home design stores to discover a treasure trove of vases and vessels to showcase your blooms. From whimsical vintage-inspired designs to sleek glass orbs, we have a vase to flatter every flower.
---
Shop the Look
---
---
You May Also Like…
---