Looking to bring new dimension into your home decor? Sophisticated and dramatic black adds a contemporary touch to any space. From replacing one lampshade to redecorating an entire room, this pure pigment draws the eye wherever it is used. In the past few years, decorating with black for both interiors and exteriors has become very popular as people embrace more daring styles.
Let's take a look at some tips from our interior designers on how you can use black to create stylish modern home interiors.
Decorating with Black Paint
Decorating with black wall paint creates a palpable change in the ambiance of a room. In a large space, it makes the space feel more intimate, almost cocoon-like. If you have a small space, black paint on the walls can have an expansive effect as the darkness of the hue makes corners recede. For people who just want the impact of an accent wall, black is an ideal color as it makes a statement without being too loud. A black accent wall, ceiling, or fireplace works well with other neutrals like white, gray, and beige.
Balance Black with White
The classic combination of black and white is timeless and elegant – perfect for those looking for a fresh upgrade to their design style. Using these two colors, you can design a room that feels glam, relaxing, or minimalist. Metallic accents like a gold-framed mirror are well-suited to a black and white room. Be sure to add in lots of texture to create depth in your black and white space.
Paint Doors Black for a Modern Look
Want to start with a small change? Paint your doors black (interior or exterior) for an instant update that incorporates the color without going overboard. Decorating with black doors is great for small spaces in particular because they draw the eye upward and make the ceiling look higher. It's also a sleek choice for the front door of a white or light-colored home.
Warm Up Black with Wood
While black lends itself well to kitchens and industrial-inspired designs, it can be made to feel more warm and cozy when paired with wood accents. For example, light and medium-toned wood floors, tables, chairs, and accent pieces can offset the darkness of the black, creating a more rustic look.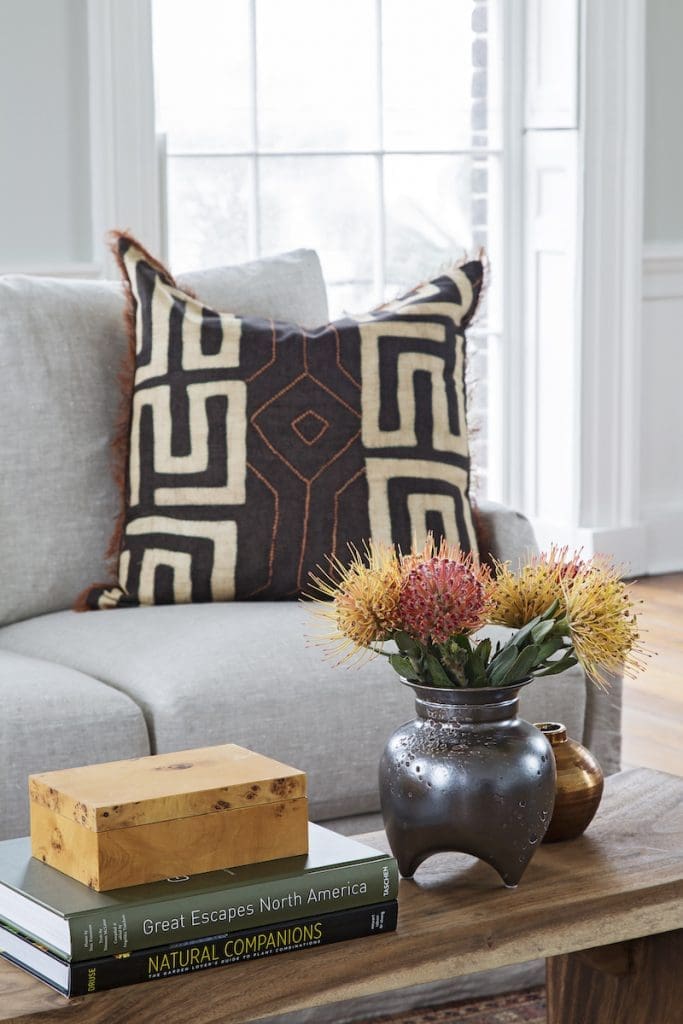 Use Black in the Kitchen
We frequently see black in kitchens and bathrooms because it has a clean, sleek connotation that creates a luxurious feel in these rooms. It provides a beautiful contrast to marble countertops, and can be used either as a wall color or as an accent. Black and white tiled flooring, for example, looks timelessly chic. Just be sure to also use black somewhere else in your kitchen, like your lighting or cabinetry.
---
Embrace the Dark Side of Design
Black is one of the most versatile colors, so it's no surprise that there are many ways you can decorate with black. From black accents to furniture and upholstery in varying shades of black, there is lots to explore at our three Charleston home stores. If you have any questions about decorating with black for your home or design project, stop by our Charleston, SC furniture stores to speak with one of our interior designers.
---
Shop the Look
---
---
You May Also Like…
---