If your bedroom doesn't feel like an oasis of calm and you're having trouble sleeping at night, it might be time to consider a few small changes. While there are a variety of factors that can influence sleep quality, the appearance of your room definitely plays a part. Having comfy bedding, a cool temperature and a quiet place to snooze are only the beginning of what to consider when creating your restful room.
To make sure you get eight hours every night, consider these interior design tips to promote a better night's sleep.
Create Layered Lighting Solutions
While having overhead lights can be useful in other rooms in the house, like the kitchen where you need maximum brightness, we recommend installing layered lighting in the bedroom. Adding multiple light sources, from a bedside table lamp to wall sconces will allow you to choose the level of brightness in the room, creating more ambiance before you go to bed. Turning the lights down with a dimmer switch or 3-way light bulb will let your brain know that it's time to sleep. Don't forget to take any electronics out of your bedroom at night – they are not only distracting but looking at the blue light before bed can keep you awake.
Use Neutral or Cool Colors
According to color psychology, cool and neutral tones will create more of a calming environment to rest. Bright colors like red and yellow can be beautiful, but they're also stimulating, which is not ideal for sleeping. Instead, choose a tranquil blue or dove gray for the walls and accents to create a relaxed atmosphere.
Embrace Softness
We can all agree that a bed needs to be comfortable, yet many continue to sleep on scratchy sheets or a lumpy mattress. If your mattress is older than seven years or is causing you any back problems, then it's time to upgrade. We carry high-end Sealy, Stearns & Foster, and Tempur-Pedic mattresses at our Charleston furniture stores and are also happy to make recommendations based on your specific needs. For your bedding, avoid any stiff, synthetic materials and opt instead for cotton or silk in the highest fabric count available. The more your bed feels like a luxury hotel bed, the more you'll be able to see it as a sanctuary.
Clean Up Clutter
A messy room can make it difficult to unwind. On a subconscious level, you'll be aware of the clutter and it will cause stress levels to increase. While this isn't a design tip, it's important to start with a clean slate and pick up anything that is lying around before you get into bed. It may seem like a chore, but it's worth it so that you can get a better night's rest.
Add Natural Textures and Plants
There is something inherently soothing about the natural world. Instead of hard edges and metal accents, designs with soft textures, plants, and organic accents will create a safe space to rest. Incorporating these elements into your home will help provide a calming atmosphere. An easy way to start is to place potted plants on your bookshelves and dresser. Finish with soft pillows and woven rugs.
Hang Black Out Curtains
While gentle lighting is really important in winding down, having a completely dark room can help you fall asleep and stay asleep. Particularly if you are someone who is sensitive to light, you might be waking up prematurely because the morning light is seeping in from outside. Consider heavyweight black-out curtains to block out light and help improve the quality of your sleep.
---
Create a Restful Haven with the Help of GDC Home
Whether you're building a new home or want to make a few small changes to create a more peaceful bedroom, our interior designers are ready to assist at any stage. We have a large collection of bedroom furniture, lighting options, soft rugs, and accessories, to create a serene and warm space to call your own. Stop by any of our three home furniture stores in Charleston and we'll help you create the bedroom of your dreams.
---
Shop the Look
---
Ramra Light Indigo Organic Duvet
A subtle and dreamy duvet, this light print plays well with any bedding. Wonderfully crisp and cool.
View Product
Rami Brass Table Lamp
Our Rami Brass Table Lamp is made of aluminum with an antique brass finish that brings this gold lamp patina and pays tribute to our finish artisans.
View Product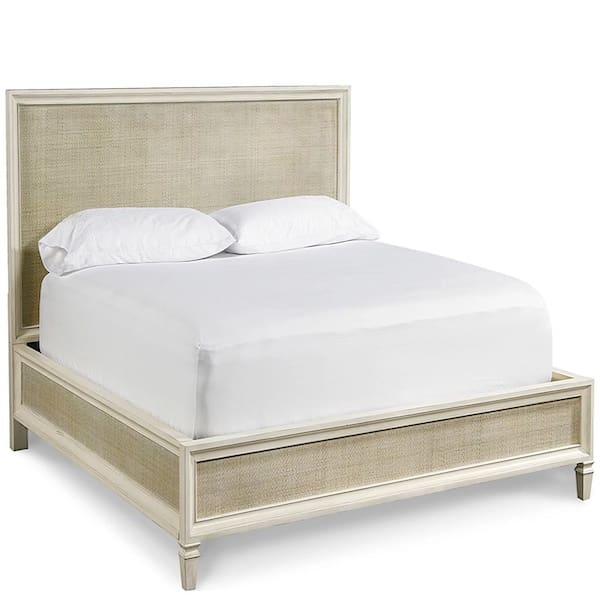 Summer Hill Woven Bed
Create a bedroom oasis with the Summer Hill Woven Accent Bed, a casual chic bedroom furnishing that exudes effortless style.
View Product
Monhegan Cotton Throw
This iconic cotton throw features a large-scale herringbone pattern with a flourish of hand-twisted and knotted rope fringe.
View Product
---
You May Also Like…
---