When you walk into any room, what is the first thing that you notice? What draws your eye and attention? Creating a central focal point in a room is a simple and commonly used approach in design that gives you a great starting place to build from. Whether your focal point is a painting above the mantle, a statement wall, a fireplace, or an unusual coffee table, it's a great way to define the color palette, tone, and scale of the room.
To help you better understand how to create a focal point that makes a statement, here are some tips to keep in mind.
Start with One Point of Interest
While you can be inspired by two or three items in a room, you should aim to have only one focal point, like the blue painting hanging above this white sofa. This allows for each part of your design to work together toward a singular goal, making the room feel more cohesive as a whole. Otherwise, elements like different color schemes and statement pieces start to create disharmony that will throw off the balance of the room. It's great to have some minor vignettes here and there, but not so many that they take away from the overall look you're going for.
Work with the Color Palette
When designing a space, it's important to choose colors that work well together. Start by looking at the colors represented in your focal point and either mimic those colors throughout the room or choose complementary tones. For example, with the colors of the painting in this room as the focal point, the designer chose to add pops of teal in smaller amounts throughout the space to create cohesion.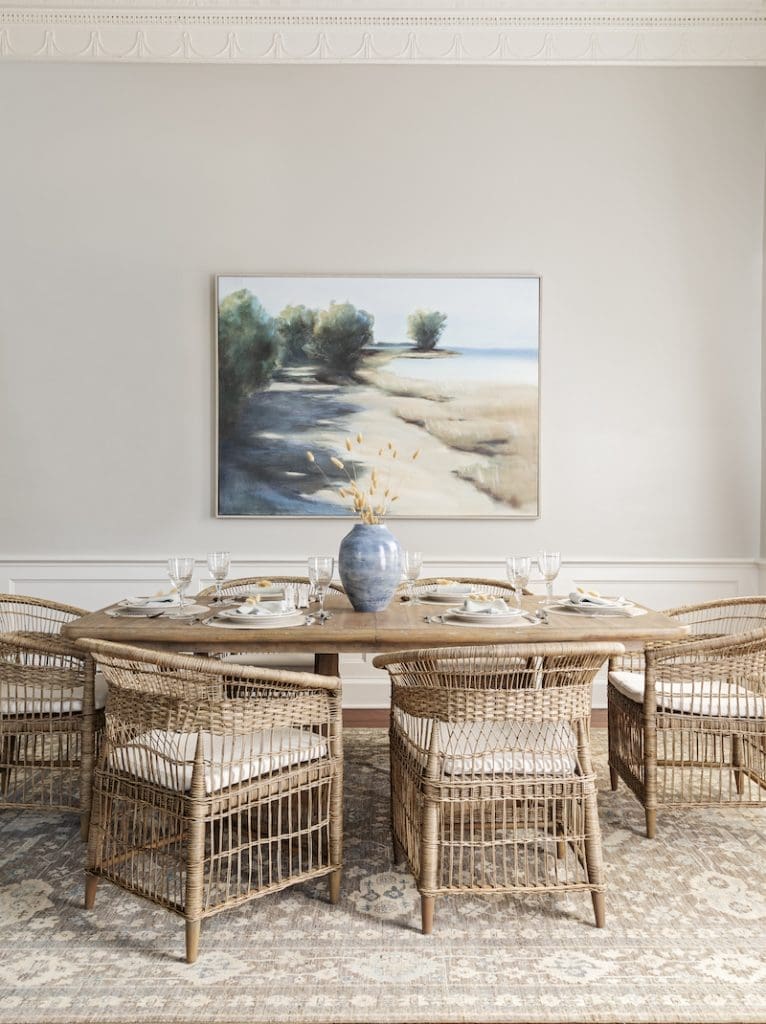 Arrange Your Furniture as a Frame
To frame your focal point, arrange your furniture so that it leads the eye from the doorway to the point of interest. Whether you're focusing on an antique vase or an eye-catching painting, decide on one thing and arrange everything else around it. Group similar items together to create symmetry between the objects on one side of the room and the other.
Take Advantage of Lighting
Take some time to think about how you want to guide your guests' eyes around your space, and use lighting to highlight particular elements and make them shine! Placing dimmers and lamps strategically throughout your home will draw attention to key pieces. This is particularly important if your focus point is a work of art – you can either have recessed lighting installed, or hang a picture light above the work.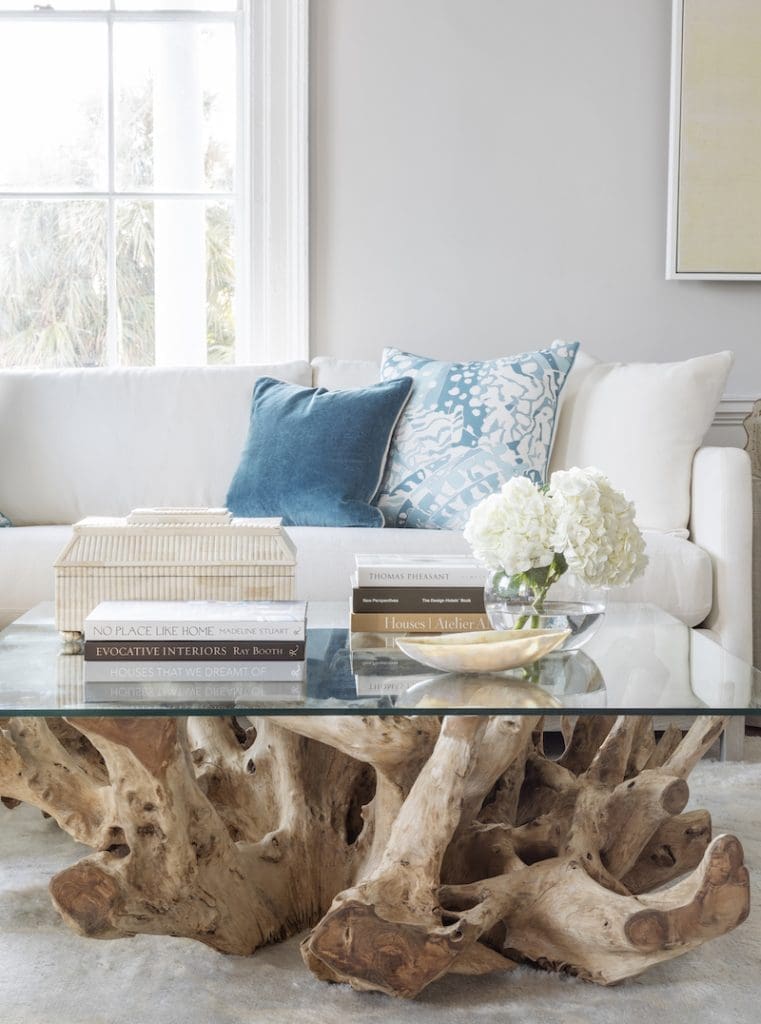 Add Complementary Textures
When you're choosing furniture, art, and accessories for your new space, concentrate on making sure that they complement your focal point. For example, if you've chosen a large, unique wood coffee table in your living room, like our Driftwood Coffee Table as your point of interest, you can add fuzzy, warm textures to accent its heavy, organic presence. The same goes for anything else you place in your space: accentuate it with accessories and furniture to balance it out!
---
Consult with Our Design Team at our Charleston Home Stores
Once you know what to look for, it's easy to see that most rooms have some type of anchor. Get creative by identifying points of interest throughout your home and allow them to guide every element from lighting to textures and fabrics. Decorating your home can be challenging—but if you have a focal point, it makes things easier! If you get stuck, our team of interior designers can suggest new ways of highlighting a focal point in a room. Stop by any of our three furniture stores in Charleston today for expert design advice.
---
Shop the Look
---
---
You May Also Like…
---