Style, warmth, texture – rugs are the ultimate accessory to lay the foundation of a room. Whether you start with your rug and build around it, or add it as a finishing touch, there is no denying the power of this quintessential home decor item. Particularly if you have wooden floors in your bedroom, a luxurious rug can pull everything together while making your space feel more comfortable.
Here are some rug ideas to sink your toes into on those chilly winter mornings.
Faux Fur Rug 
​​Nothing says coziness like a faux fur rug in the bedroom. It's the perfect soft landing place when you first step out of your bed. Faux fur rugs make a strong statement, so they aren't suited to every space, but if your room is all-white, Scandinavian, or lodge-inspired, there is no better choice for your bedroom than a faux fur rug. You can also drape  a small faux fur rugs over the back of a chair as a stylish accent detail.
Natural Fiber Rug
Sisal, seagrass, jute, wool and other natural fiber rugs are always popular for their intricate woven designs, unique textures and hardwearing properties. They work particularly well in bohemian and coastal bedrooms, blending perfectly with other neutral hues while adding depth and style. For example, our Nile Handwoven Rug is delicate in appearance, yet durable – ideal for a minimalist guest bedroom. If having a low-maintenance rug is a priority to you, there is nothing better than one made from natural fibers.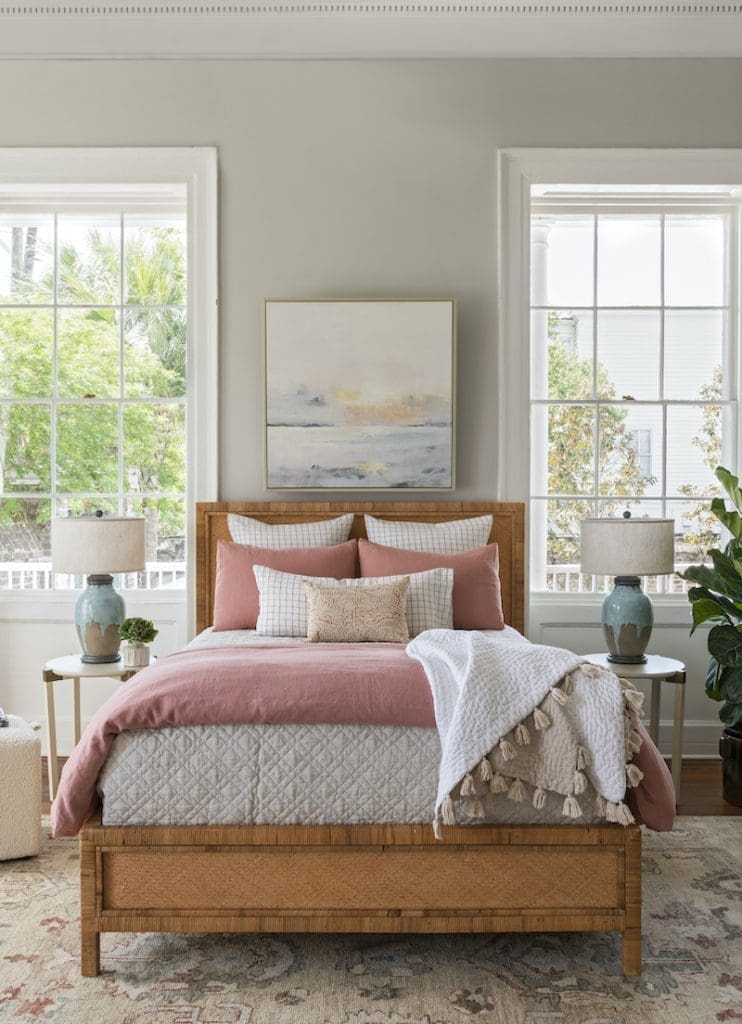 Oversized Rug 
Bigger is better when it comes to rugs! A large rug like our Gunnison Indoor/Outdoor Rug can serve as a chic alternative to wall-to-wall carpeting in bedrooms and make your space feel larger and more impactful. You can also consider layering rugs of different sizes and textures. Just make sure that you leave clearance for doors and that your rug isn't touching the furniture.
Patterned Statement Rug
While rugs are often an afterthought of many homeowners, they are a great way to inject a bit of personality into your space and should be prioritized. A patterned statement rug, be it a Persian, paisley, or geometric print, can bring a dose of color that will set the tone for the rest of your room. Our Diamond Indoor/Outdoor Rug, for example, features an eye-catching interlocking diamond pattern that adds subtle sophistication with a hint of glamor to any space.
Uniquely Shaped Rug
A rug with an irregular shape adds instant character and interest to a room. The shape can be chosen specifically to fit the size of the room, or to match a theme. Some of the most common rug shapes are round and oval, but you can also find octagon and square rugs as well as custom-length runners for long, thin areas.
---
Shop the GDC Rug Sale February 10-18th
If you've been feeling like your bedroom needs a change, laying down a beautiful rug might be the key to giving it a fresh new feel. We have a large selection of one-of-a-kind, natural fiber, flatweave and indoor/outdoor rugs at our Charleston home furniture stores and are always happy to offer a consultation for your specific needs. Between February 10-18th, they'll also be on sale – so it's the perfect time to make the investment on a rug you'll love.
---
Shop the Look
---
---
You May Also Like…
---